Posted on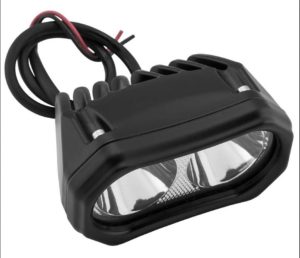 Our dilemma exactly. Tracy's BMW R650GS Twin is loaded with heated grips, cell phone charger, and heated gear for winter ops and a very expensive set of Wunderlich (can't you just feel the cash drain from your wallet when you read their name?) Micro Flooter Lights. These finely crafted auxiliary lights are specially designed to meet European laws that restrict lights from blinding oncoming drivers.
These auxiliary lights use H3 35-watt or 55-watt bulbs as their standard. No LED bulb fits. So what we ended up with was a bike that was slowly drawing down on the battery during typical twisty road riding conditions. We were told by Shannon (of Gateway BMW infamy) that 35 watts was pushing it with no grips or gear and 55 watts would equal a roadside dead battery.
Tracy was looking for more light and greater conspicuity from her auxiliary lights. Plus, I knew she would run them continuously, not just at night. So, after way too much research, off to Gateway BMW I went to see what I could learn. When I described my dilemma, Jeff said "This is easy and reached up on the shelf and proceed to bring two boxes down…this is where things went into slow motion for me.
I was terrified to see the price as I recall LED kits were in the hundreds of dollars. Jeff, recognizing customer sticker shock, said don't worry you can afford this, and everyone has put them on their bikes. As if on cue all within earshot nodded in agreement or said "you'll love 'em." $38.97 a light with a nice waterproof harness connector and I was sold. Out came the credit card and faster than you can say "Fake News" it was done.

Now just to ease my buyer's remorse, I headed back to the Service area to find "Sir Manly" sporting the latest in Celtic Casual wear (left), and asked him what he would do to add light, make the bike more conspicuous to oncoming drivers, and reduce the load on the alternator. He pointed to the same Quad Boss lights on his LED light display panel that I had just purchased from Jeff.
He went onto say that they have had great luck with these lights. He said that I could use the existing switched wiring harness and relay that was powering the Wunderlich Micro Flooter lights. He warned me that I have to ensure that I make the wiring up correctly (positive to positive, return to return). He explained that unlike incandescent lights, LED's can only take current in one direction. Armed with that warning, I left Gateway feeling glad to have stopped in and happy with my purchase.
Next big decision, try the electrical work on my own and potentially short circuit the CANBUS and ruin Tracy's bike…or…yup…down to Leligdon Motor Werks I went. Same day service even. You can't beat their hours!
Installation involved removing the $300 Wunderlich lights and then connecting up the Quad Boss lights via harness to the tails that originally powered each Micro Flooter. Then some twist tie magic and the job was done. We powered up the bike and the Quad Boss Lights were as impressive as Jeff said they would be and a bargain to boot. Plus, we cut a large amperage draw on the alternator in the process.
Installed on the Bike: