Falling Leaf Rally Information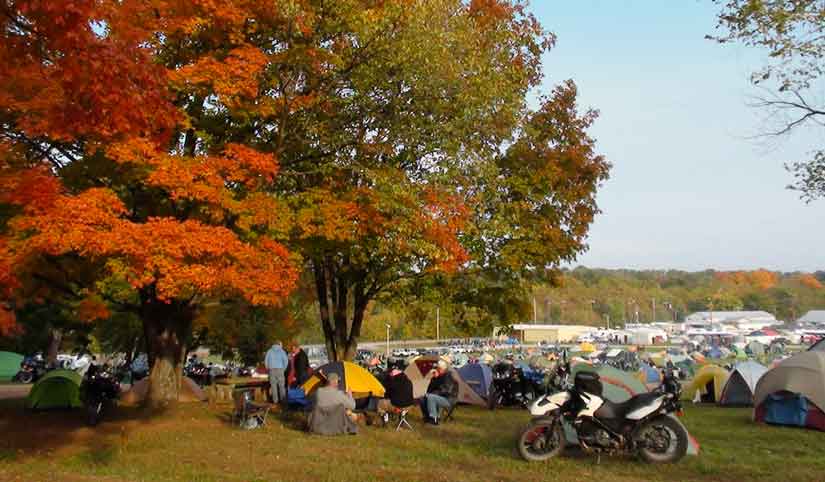 October 13 – 15, 2017
Date:

Friday noon through Sunday morning, October 13th, 14th, 15th, 2017

Adult Admission:

$30.00 Each Adult 16-years old and up. $5.00 discount for volunteers as long as volunteer duties are available. Sign up at the registration desk. Rally Pin to first 500. Wrist-band required for entry.

Children Admission:

Free, 15-years old and under

Amenities:

Hot Showers & Flush Toilets, Free Firewood, Two-Nights Camping, Enclosed Heated Hall.

Included Food:

Free Hot Dog Roast (with chips and pork & beans) starts Friday 5:00 pm till 8:00 pm (approximately). Free lemonade, hot chocolate, hot tea and hot coffee. Saturday night pizza for volunteers and vendors.

Optional Paid Meals:

Saturday evening: BBQ pork steaks, or BBQ Chicken (may vary), bread & dessert. (Provided by the Lion's Club) Saturday morning Pancake & Sausage Breakfast. Saturday lunch of hamburgers or Fried Fish (may vary).

Vendors:

Several vendors in attendance. (Bikes, Tires, clothing, helmets and accessories, demo rides, after-market accessories.)
The Falling Leaf Rally is hosted by the Gateway Riders Motorcycle Club, St. Louis, Missouri. We are charter club #22 in the Motorcycle Owners of America (MOA) organization. The Gateway Riders have sponsored the Falling Leaf Rally since 1976. We traditionally hold the rally the second full weekend in October.
The rally is at the Lions Club Fairgrounds in Potosi, Missouri. Potosi is about 60 miles South Southeast of St. Louis.
Coordinates are LAT: 37 degrees, 56 minutes, 43.1304 seconds. Long: 90 degrees, 47 minutes, 53.1486 seconds

Roads
Any road with an alphabet letter around the rally site is likely scenic and twisty!
Check MODOT Traveler Information Map for the latest construction updates or closures.  http://maps.modot.mo.gov/travelerinformation/
Dual Sport Riding
There are some great off road trails in the Mark Twain forest. A topographical map or GPS will be necessary.  There is a guided dual sport ride on Saturday, led by Tom Huff. Tom recommends you have some experience with loose gravel and low water crossings.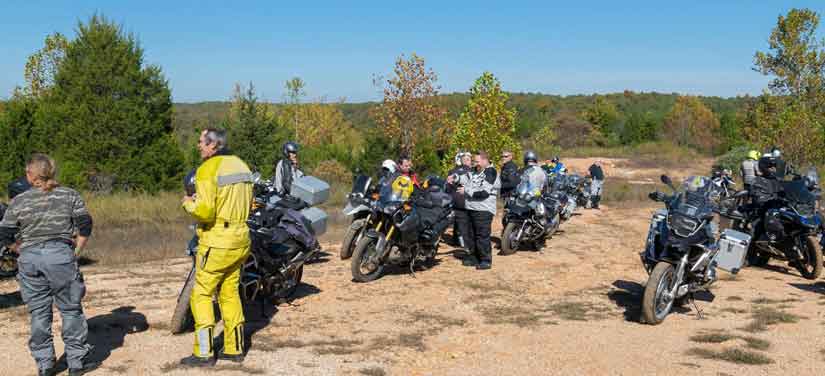 Camping
Camping space is plentiful at the fairgrounds.  In October it often gets cold at night. Check the weather forecast and plan accordingly.  If you forget anything, there is a Wal Mart near by. Your entry fee includes firewood, and the enclosed meeting hall is open and heated Friday and Saturday night.
RVs, Trailers, and Cars
You are welcome however you get here: motorcycle, RV, or car. There is an RV parking area, however,  no electric or water hookups, and no dump site. There is a designated parking for utility trailers and cars or trucks. Please only park motorcycles on the campground. We appreciate your cooperation to keep the traffic pattern open and safe for all.
Motels
There is a Super 8 in town. It fills up fast. Potosi Super 8, 573-438-8888, Super8.com. Call directly for best rate and waiting list.
If you can't get a room in Potosi, we would recommend going to Bonne Terre, about 20 miles East of Potosi. There is a Super 8 there, and also a nice locally owned establishment, the Red Cedar Lodge. The ride from Potosi to Bonne Terre isn't bad, and the motels there are OK. Bonne Terre Super 8, 573-358-5888, Super8.com Red Cedar Lodge 800-825-7506, 573-431-0008.
Another choice is Sullivan, which is on I-44 at 185, about 30 miles west. 185 goes right in front of the Lion's Club Fairgrounds and is a nice road to ride. They have a Baymont Inn and an Econolodge. Baymont Inn 1-866-999-1111, Baymontinns.com
Econolodge 1-877-424-6423, Econolodge.com
Potosi
The town of Potosi has the common fast food joints, such as McDonalds, Hardees, and Sonic. There are also popular family run establishments. There is a Wal Mart, grocery stores, and an auto parts store. There are no motorcycle shops.  There is a hospital which we hope, you will not need. There is no no first aid available at the rally grounds; we leave the medical services to the professionals.
Facilities at the Rally Grounds
There is a heated meeting hall, the Lion's Den, which will be open throughout the event. Inside, we have registration, free coffee, hot chocolate, lemonade, ice water, and ice. There are indoor toilets in the meeting hall and in the shower house next to the meeting hall. There will be porta potties around the campgrounds as well. There is no water service out on the rally grounds.
Special Needs
There is no electricity in the regular camping area. We do have electric outlets in the area behind the Den and behind the bleachers. If you have special needs, ask about electric connections at Registration for instructions and locations.
Food
Friday night there is an old fashioned hot dog roast, with baked beans and chips. The hot dog roast is included in the rally fee; other meals are not, but food is available on the grounds for your convenience. Saturday morning, the Lion's Club serves a good pancake and sausage breakfast for a reasonable price. They also have hamburgers for sale at lunch time. Saturday night they serve dinner if you want to purchase it. We have always left food to your discretion.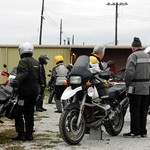 Things To Do
On Saturday there are several events. The self guided observation ride consists of a route and some questions to answer regarding the sights you see along the way. Cash prizes to the winners. The point of course, is to have a nice ride. The observation run will be about 150 miles long. There are other scenic route sheets available for self touring.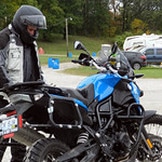 Also leaving Saturday morning, will be the dual sport ride. Tom Huff, a Potosi native and avid motorcyclist will lead. We ask that only riders comfortable with gravel roads, stream crossings, and other such hazards go on this ride.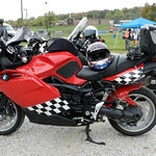 On Saturday afternoon we will have a Bike Show. All types and brands are welcome to compete. The bikes will be displayed near the Lion's Den and the winner chosen by ballot. The voting instructions are to vote for the bike you like best. This is not a vintage bike show. Bring your bike down and put it on display – clean or dirty – old or new. Anybody can win.
Awards
We give awards for the:
Youngest Rider on a BMW,
Oldest Male Rider on a BMW,
Oldest Female Rider on a BMW,
Oldest BMW Ridden to the Rally,
Oldest Combination – Age of Rider and BMW,
Long Distance* Solo Male Rider on a BMW,
Long Distance* Solo Female Rider on a BMW,
Long Distance* Two-Up on a BMW, and
Long Distance* Sidecar – BMW Powered.
People's Choice Bike Show Winner.
You have to sign up to be eligible for the awards; read your rally packet for details.
*Long Distance awards are calculated from your home address to the rally by the most direct route with final decision made by electronic mapping software.
Vending at the Rally
Vendors enhance the rally experience for everyone, and we want to encourage them to attend. We charge no vendor registration fee, but we ask that vendors register with us at the registration desk and provide us with a door prize. We then issue an armband that gives access to the grounds and all the services we provide. If Vendors want to be eligible for door prizes, they may pay the regular rally registration fee. In order to further demonstrate our desire for vendors to attend our rally, we invite all of the on site vendors to the Saturday night appreciation pizza party.
Door Prizes
We have door prizes provided by our club and the vendors. We give you tickets with each full fare registration.
You can put the tickets in any of the door prize jugs you wish.
We do a 50/25/25 drawing. We sell tickets all weekend, and winners are drawn at the awards ceremony on Saturday evening. The first winner gets 50 percent of the money collected in cash, the next two tickets drawn are good for 25 percent each. We have given away some substantial cash awards in the past from this drawing. The Observation Ride also gives a cash prize.
Who Can Come
This is a BMW rally. It is open to BMW riders and owners. However, we admit riders of other brands of motorcycles as guests. Please keep in mind, we sponsor a family atmosphere event. We are a private club on private property and we aim to keep things friendly, fun, and safe. The Washington County Sheriff's Auxiliary provides evening security for us. We also monitor our gate from beginning to end. All registrants will be given an arm band. If you don't have one, you won't be able to get in the gate. If you aren't wearing the armband while on the grounds, we will ask you to register or leave.
What About Pets?
We like pets – but owners are sometimes a problem. Owners are expected to keep their pet under their control at all times and to clean up pet waste immediately and completely. "Under control" means on a leash at all times. We have to enforce this, as we cannot have unattended dogs urinating on tents or motorcycle tires, or leaving droppings where people are trying to camp. There are areas around the perimeter fence of the grounds which are quite fine for pet walking. Be considerate of others and we will all get along just fine. But, if we find your pet unattended running around the rally grounds, you may be asked to leave.
When Can I Arrive?
We start the rally on Friday. However, we will be setting up around Noon on Thursday. If you come before that time, we can't guarantee anything. The Lion's Club owns the grounds. We rent from them from Thursday afternoon through Sunday afternoon. The Lion's Club are good folks who, in the past, have been OK with a few people who arrive a bit early, but it is entirely up to them. The Gateway Riders will not be providing any services until Friday morning, and we will have everything packed up and be gone by Sunday Noon.
Registration
We charge $30 for each adult admission, rider or passenger – it doesn't matter. We have lowered our entry fee for children because we want to make it as easy as possible on families. Under age 16 free. Saturday only day passes are available for $10; no camping. We really like vendors, so they get in for free if they give us a door prize. Pre-registration not available at this time.
Rally Volunteers
Putting on a rally of this size requires a lot of help. If you want to be a part of it, we welcome your involvement. There is a Volunteer sign up desk at the registration table. All of the jobs we need done are listed there with descriptions of the duties and responsibilities. Volunteer jobs range from monitoring the gate to helping set up the hot dog roast to tabulating awards to making coffee. Volunteering at the rally is a really nice experience. You get to meet new people and have the satisfaction of contributing to everyone's fun. To show our appreciation, all volunteers are invited to the Saturday night pizza party.
Dealers and Service
Gateway BMW
2690 Masterson Ave.,
St. Louis, Mo, 63114
314-427-9090
Grass Roots
28 South Spanish St.,
Cape Girardeau, Mo, 63703
800-888-1269
Forever Endeavor Cycles
21 East 5th Street,
Eureka, Mo, 63025
636-938-7336
QUESTIONS????
bmwfallingleaf@yahoo.com. Subject line "Falling Leaf Rally". Thank you.