Posted on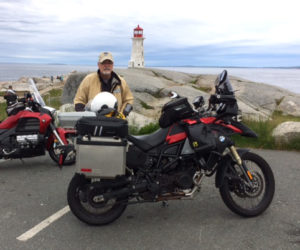 I've ridden the F800GSA for 17,662 miles: to three MOA rallies (St. Paul, Billings & Hamburg), the old river road to New Orleans, two trips through the Arkansas Ozarks, a nine-state tour of the northeast, and my recent (July) 10-day ride to the Cabot Trail (I started to the RA rally in Petosky, Michigan but got confused on my GPS. Have to take lessons on how to use it. Ended up in Nova Scotia by mistake. Oh well…).
So now it's time for good evaluation of the bike's performance in very diverse geographical areas.
Motor:
The motor is flawless. It is quiet, smooth and has great response. The transmission is smooth as silk. At 85 hp it has adequate power in most situations. It does lack in extra response if passing at high speeds and has a slight vibration in the seat at highway speeds.
Handling:
I raised the counter (front) sprocket one tooth size to reduce the slight vibration annoyance. It seemed to reduce the vibration (at least in my mind). The best cruising speed on interstates is 65-70. The bike sits high and is a bit squirrelly when maneuvering in a parking lot. Although it is lighter and carries the gas in a tank below the seat, it still can feel a bit too heavy when parking or maneuvering. In the handling department it is superb. While riding curves and tight two-lanes, I would rate it above any GS I have ridden. Remember, however, even in my 50th riding year, I am no pro and most of my comparison experience has been on my old '05 GS.
Comfort:
Comfort is not as good as the 1200. I replaced the stock windscreen with a manually adjustable aftermarket. It's better but does not give the wind protection I would prefer. Few manufacturers have made a replacement. I had the seat rebuilt but still seek a more comfortable one. Sargent makes one so I will visit their facility again when I am in Jacksonville, Florida this fall.
Service & Changes:
While the chain has not been a problem, it and the sprockets are due for replacement. Dealer cost is $500. Ouch! The tires are tubed. This is a pain in the event of a flat. I sent my rear wheel to Woody's in Denver and had it sealed. It now runs tubeless. They wouldn't do the front as it would not withstand the adjusted seal on such a narrow rim (21″ wheel). The kickstand is 1/4 to 1/2 " too long making parking very difficult in many situations. I will have it shortened.
Riding & Travel
On long trips, with a lot of interstate travel, I would prefer a 1200. In western mountain ranges with long uphill climbs I would prefer the 1200. In the East & Midwest on curvy two lanes the 800 is, hands down, my favorite.
Replacement:
Would I buy another one? Well I would look carefully at both the F series and the 1200 GS. BMW will be replacing the 800 in 2018 with a new 900 engine. Hp will probably be in the 95-100 range. It will still be chain drive but will have tubeless spoke wheels like the KTM. A complete description of the totally new 900 can be found on Google under F900GS. It will return to a conventional gas tank. Rumor is, it's BMW's attempt to compete with KTM, Triumph Tiger 800 and the Honda Africa Twin. But to address the question: At 72 years old, do I want a new bike, or simply ride this one to the "Finish Line." I have every confidence it will go the distance. So there you have it from a 89% happy F800GS rider.
My philosophy:
Shorten the distance,
Reduce the pace,
Enjoy the ride.