Posted on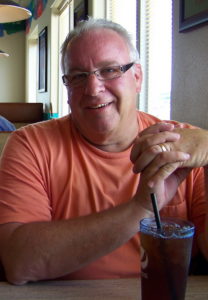 The following words are ones that Bill Graham presented at Al's memorial service. It was written by Bill and Judy and I think it reflects how we all feel. How fortunate we are as a club to have had Al in it, and to have some folks who can express what we feel and speak for all of us. –ed.

My name is Bill Graham. My wife, Judy, and I are longtime members of the Gateway Riders BMW Motorcycle Club. Al became a cherished member of our one-for-all and all-for-one group, serving as president and then treasurer. He took part in our monthly meetings, as well as gatherings and celebrations. Al went on many club rides and led his favorites. He and the club members who gathered and rode with him formed very special friendships and great admiration for one another.
Liz was so kind to send our club updates on Al's condition, as we thought of him daily. After his passing, my wife and I shared our heartfelt sentiments with Liz about her dad, similar to ones we had heard from other club members. I am grateful our words touched Liz, and I am honored that she asked me to share those thoughts today.
Al and Jill opened their home to club members to host some main courses for our annual Progressive Dinner ride. Along with fun motorcycle videos, the food was finer than a five star restaurant spread. Club Super Bowl gatherings at Al and Jill's were a real treat, full of catching up with each other, stories and laughter. Al delighted in serving specialties from noted St. Louis restaurants. We felt as welcomed as family.
In one of his recent emails to me, Al said, "I am still amazed about all the fun and good times I have had being in the club and being able to ride as much as I have." Calling club friends exceptional, he often expressed his amazement and appreciation for the love and support we had for him and one other.
How we all adored Al! He was the finest man, the salt of the earth. Al always thought of others, shared himself genuinely from the bottom of his heart, and gave his time and efforts like we were all the most valued people. He was down to earth, kind and real.
Enjoying experiences to the max with zest, Al got such a kick out of life, from the smallest of things like trapping the critter that was getting into their trash to social events with family and friends.
When Al became ill, we all prayed for his healing. Judy and I shared the following hope-filled thoughts with club members:
"Part of beating adversity is wrapped up in Al's attributes – a consideration and love for family, friends, and acquaintances; a willingness to help and share; a joy in going, seeing, discovering; a zest and positive attitude that uplifts everyone around him; a jolly demeanor that lends to smiles and laughter; and a knack for getting stuff done easily."
Like Al, Jill is such a wonderful person, beautiful inside and out. She has been so open, kind and welcoming, happily sharing with our club members in words and actions. Better parents Liz and Charlie could not have had. In the circle of life, they took over for their dad after he became ill, as he had done for them beforehand. Al told us what a great job they were doing, and he didn't know what he would do without them.
Al shared multiple times how lucky in life he was that Jill, Liz, Charlie and wife, Kristin, were his family and that he still had his mom, sisters and brother. He was especially proud of family milestones with Jill and his children's successes. I will never forget one time at a club event at Marilyn and Bill's home, we asked Al how Jill, Liz and Charlie were. I wish I had a video of his reaction as he pulled up pictures on his cell phone to show us. With a huge smile and chuckle, Al's face lit up with joy, as if there were a glowing light underneath.
Al was so grateful for all the wonderful times he had with the family members and friends he loved so much. When he was ill, he said multiple times how fortunate he was for the time they had together to reminisce. What a blessing that Al could be at home where he was comfortable with those he loved and cherished.
To Al's family and many friends who he held so dear, we are so sorry for your loss. Jill, Liz, and Charlie, know that time will help heal your tremendous sorrow. Al will live so vibrantly within your hearts that you can still go to him to talk or for advice, and you will hear his words or answer. He will continue to watch over you all.
It was a true blessing to have known Al and a great pleasure and privilege to be his friend. He was a grand captain, a leader in many roles – husband, father, son, sibling, friend, and businessman. Al was a person who, by just being himself, unknowingly influenced others to be better people.
Al, we will all miss you, our friend, but you are remembered fondly. You were one special guy loved by many.
Save
Save
Save
Save