Posted on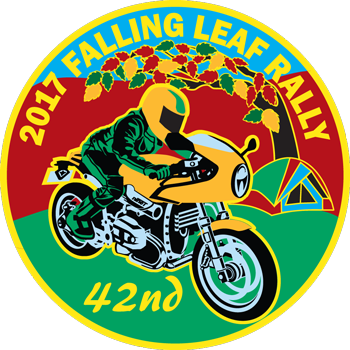 The 42nd Falling Leaf Rally is just a few months away. Beginning Friday noon through Sunday morning, October 13 – 15, 2017, hundreds of BMW motorcyclists will descend upon the Missouri Ozark town of Potosi for our annual fall rally
The Gateway Riders Motorcycle Club headquartered in St. Louis, Missouri has hosted the annual Falling Leaf Rally since 1976. We are chartered club #22 with the BMW Motorcycle Owners of America (BMWMOA) organization.
Throughout the year, our club members are busy planning all the activities to ensure every rider has a great time during our rally. Whether it's double checking to make sure we've got enough hot dogs on hand to feed 600 people at our Friday night hot dog roast, or securing enough hot coffee to keep you warm in the cool, crisp fall mornings, our dedicated club volunteers will be there to make it happen.
One rally detail that can't be overlooked is our official rally pin. We think of it as our rally "logo". The design on the pin is used in several ways. We use it for customizing our many rally awards. The design usually shows up on our official rally t-shirt and we "reward" the first 500 rally attendees with a rally pin when they attend the Falling Leaf Rally.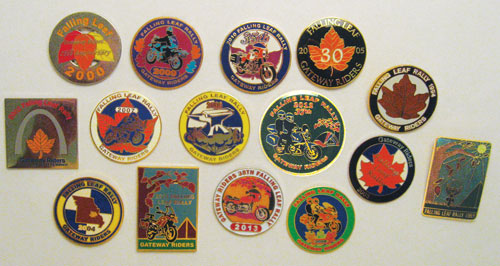 Each year the rally pin has a new design and a new combination of fall colors. If you haven't noticed, we never use more than five colors. Why only five colors?
These pins utilize the cloisonné technique with a soft enamel. Each color is applied individually. Adding more colors beyond five increases the technical challenge of hand manufacturing and increases the cost exponentially. It easier and more cost-effective to make five colors work just as hard as six, seven or more colors.
This year, what's old is new again. BMW's R nine T bike is "pure passion, pure design, pure riding pleasure" and that's why we chose to use this bike as part of our 2017 pin design. The Falling Leaf Rally is a classic motorcycle camping rally for the classic BMW motorcycle enthusiast.
Make sure you plan to attend this year's Falling Leaf Rally October 13 – 15, 2017. Be one of the first 500 to receive our new 2017 rally pin.