Posted on
I would like to thank the Ackermans for hosting our annual pool party! I would like to give my personal thanks to both Jeff and Mary for making the event one of the best times I have had as a member of the club.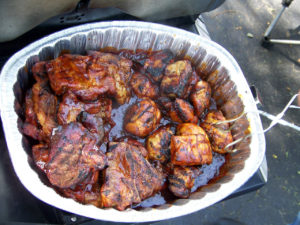 I would compare the event only to the Progressive Dinner in terms of hospitality and fun. Phil did his magic on the grill and Jeff kept pace with him for a feast that was enjoyed by all. The food and fun flowed freely! George brought his flawless black R75 and both he and the bike looked great riding together.
The pool was beautiful and the water temperature was perfect for lounging until being served a great meal. Conversations among our members over cold drinks made the event extra special until we had to roll up the chairs and head home. All of our members looked well-fed and happy by the end of the event.
I would like to mention that those who could not attend were missed by all of us!
The Ackermans' home was so beautiful, the pool warm and inviting, the food was so good… I might say it was the high point of our year!