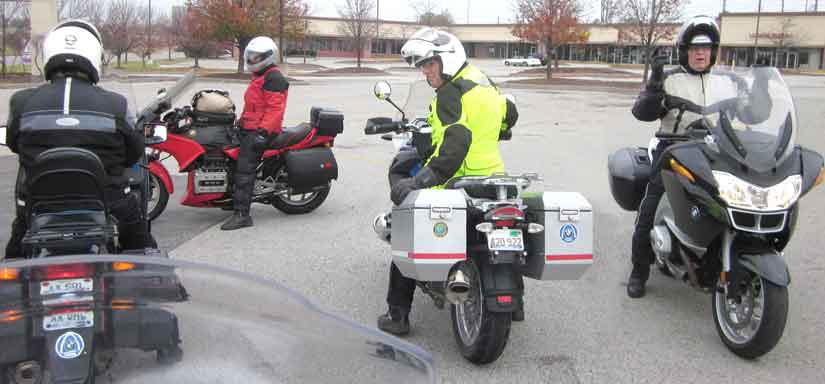 2016 Mileage Contest Results
By Jeff Ackerman, Mileage Contest Director

The Gateway Rider's mileage contest runs for a year and includes all motorcycles ridden by the members during the year, not just BMWs. The contest nominally runs concurrently with the yearly points contest, namely from December through the following November.
However, I will accept mileage from members covering any year long period similar to this. This document gives the results for everyone responding by the end of December 2016. Twenty-one members provided ending mileage for this year; see the table below for complete results.
Since this is my second year compiling the mileage, I was able to show the difference between 2015 and 2016 miles ridden for those members providing mileage both years. Eight participants rode more miles this year while ten rode fewer miles and I had no 2015 mileage for three.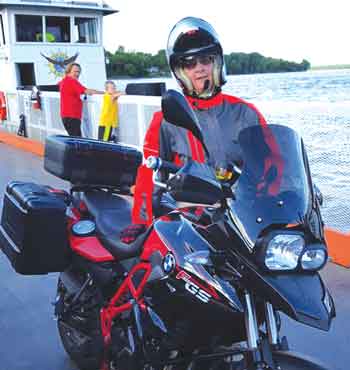 George Siede, with the "new" R75/5 he won at the rally, and Susan Anderson, with her new F700GS had the largest percentage increases in miles ridden. Traci Anderson, a new rider this year, rode 4426 miles, very good for a first year.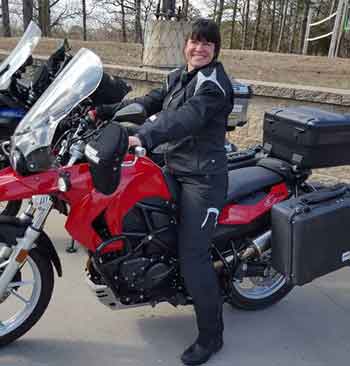 Your events director, Jeff Ackerman, came in first again this year by riding over 25,000 miles, ~5% more than last year. Fielding Childress moved up to second place from tenth place last year with his new GS Adventure. Jim Shaw moved up to third place from sixth last year. Phil Sulfstede fell to fourth place from second place be-cause he spent much more time in New Orleans this year. Dave Anderson rounded out the top five, moving up from a tie for sixth last year.
Mary Ackerman was again the top placing female rider, coming in seventh this year vs. fifth last year. She rode about 3000 fewer miles this year but it was all due to just two trips. She rode fewer miles to the National this year (New England is much closer than the Canadian Rockies) and skipped the trip to the Smoky Mountains in October in favor of playing golf with the ladies in Biloxi.
There is still time to get into the contest for 2017. Just send me your beginning mileage for 2017 for each of your bikes and I will get you loaded into the spreadsheet. If you get a new or different bike this year, let me know the starting mileage and I will add it to the list.
| | | | | |
| --- | --- | --- | --- | --- |
| Top 10 Finishers |   |   |   |   |
| Member: | 2016 Miles | 2016 Rank | 2015 Miles | % Change |
| Ackerman, Jeff | 25388 | 1 | 24252 | 4.7% |
| Fielding Childress | 17137 | 2 | 13482 | 27.1% |
| Shaw, Jim | 16691 | 3 | 15566 | 7.2% |
| Sulfstede, Phil | 14506 | 4 | 21659 | -33.0% |
| Anderson, Dave | 13900 | 5 | 15566 | -10.7% |
| Bissell, Dave | 13664 | 6 | 15828 | -13.7% |
| Ackerman, Mary | 12424 | 7 | 15576 | -20.2% |
| Bissell, Cathy | 11819 | 8 | 12704 | -7.0% |
| Griffin, David | 11756 | 9 | 14796 | -20.5% |
| Floyd, Larry | 11685 | 10 | 14405 | -18.9% |
Mileage Contest for 11 through 21
| | | | |
| --- | --- | --- | --- |
| 11th thru 21st Place |   |   |   |
| Member: | 2016 Miles | 2016 Rank | 2015 Miles |
| White, Lany | 9279 | 11 | 4200 |
| Green, Jay | 9161 | 12 | 8188 |
| Schroer, Al | 6109 | 13 | 5777 |
| King, Dennis | 5989 | 14 |   |
| Quindry, Steve | 5851 | 15 |   |
| Haugen, Bill | 4953 | 16 | 6254 |
| Anderson, Traci | 4426 | 17 |   |
| Siede, George | 4296 | 18 | 1721 |
| Graham, Bill | 3948 | 19 | 8382 |
| Halbert, Mike | 2811 | 20 | 9829 |
| Anderson, Susan | 1134 | 21 | 200 |