Posted on
If I were to try and define my adventure riding in one word I would have to use the word "maybe." It just seems to fit when starting out on a new adventure because of all the possibilities that are randomly available as outcomes to the adventure. And as a half glass full rather than empty type of guy, I would use the "maybe perspective" or "maybe the rain will hold off a couple of hours until I can get the ride in" (yes!) or "maybe this year it will be rain free at the Georgia Mountain rally (again yes!) or… well, you get the picture.
Casting a positive slant on the expectations of "maybe" always seems to be a great way to start an adventure rather than a negative perspective such as "maybe I shouldn't go to the rally because of wet or hot weather," a view my wife seems to prefer as she shakes her head when I head off into the rain from a perfectly dry garage.
I came up with this enlightenment last year as I was riding solo up to Marquette, Michigan on my first leg of a ride with the BMW Beemer UP motorcycle club around Lake Superior. As most of you longer distance riders know, riding long sections of road solo allows you plenty of time to think about things, and the word "maybe" just kind of popped into my head about a hundred miles before meeting up with UP club members Bob Robertson and Rich Henrion just south of Duluth, Minnesota.
You see, I procrastinated for a couple of months using the word "maybe" before finally deciding to make the ride, and so ended up not only riding the first and last legs solo, but also ended up solo in the motel which just happened to be a different motel from the other folks, as the odd man out. Apparently motels, even in September in the Grand Marais area just south of the Canadian border book completely in advance, so creative lodging was in order.
Rolling into Grand Marais I managed to find the back entrance to the hotel, which was a smaller mom-and-pop type of hotel–although the nightly rate didn't exactly signify a mom-and-pop style hotel–only to experience a small discussion between a mother with two young children (probably 8 and 10 years old) and an older women running the desk. It seems that she and her husband had made reservations a couple of weeks earlier, only to find that somehow their room had been given to another guest. Of course the motel didn't have any other vacancies left to accommodate them.
At first it was interesting to watch things as they progressed, as I have to say it was one of the most polite discussions about difficult circumstances as I have had the pleasure to watch. About this time I could see the two kids getting active because they wanted to get out of the lobby and down to the beach to start having fun. Mom, of course, had a frustrated face contemplating more miles on the road to another town.
Every motel I had passed coming into town had "no vacancy" on its shingle, so the word "maybe" was definitely not being received by the mom as a glass-half-full kind of thing at the moment. The motel receptionist asked for a little time: take the kids for a walk and stop back by in a half hour and she would see what she could work out. A little resigned, the mom headed out. The kids were happy to be doing something but not aware of their possible fate of having to motor on past their anticipated beach fun.
I must admit that I was having reservations allowing glass-half-empty to enter my consciousness "maybe" perspective that my reservation would also be messed up, because I had made it very late in the week before the trip. But to my surprise, mine was good and ready, so the clerk gave me my key and off I went in search of my room. One look at the room with two giant-size beds, kitchenette and what seemed like enough length of room to throw a pretty serious football pass, stopped me dead in my tracks. The word "maybe " pops back in my mind and I turned around, locked the door and went back to the clerk to give my room to the young couple with the kids.
The clerk looked at me like I was nuts, but I told her I was pretty robust, (after all I am a BMW rider, eh?) and if she had a hallway or maybe a laundry room where I could pitch my cot, I'd be glad to make the accommodation. I really didn't want to sleep on a park bench down by the water like a homeless person, but I've had worse nights in my riding experience, so it was doable, as I could always use the shower in one of my buddy's room in the morning if need be.
About this time during the conversation, the young mother and her husband returned to the desk and the clerk informed them that I was willing to give up the room. Eyes light up, the world returns to full orbit, and the best thing of all was the husband was a fellow BMW rider. So "maybe" as in maybe I should give up the room to what looked like a really nice couple came out to be a good thing that I have gotten a lot of joy out of ever since when I think of them.
But the best was still to come. I had left my cell number with the clerk, and gone to dinner with the guys, only to have her call me and tell me that she had found a single room at a motel up on the hill going out of town, and that she would pay the difference between the rate that I was going to pay at her hotel and the one up the hill. Great, right! So the "maybe" just keeps on getting better. I rode up the hill to find a small room with a magnificent view overlooking the lake, and with a hot tub to soak my aching bones to boot. Wow! Now I like the word "maybe" so much that nothing will change my mind about using it as my go-to word for adventure riding.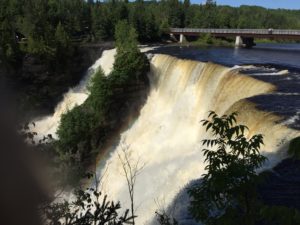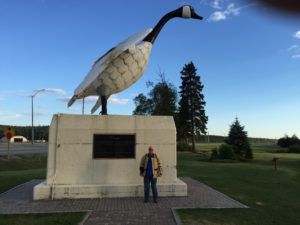 The ride around the lake was spectacular, with stops at several key sights such as Kakabenka Falls outside of Thunder Bay.
Even the goose in Wawa Canada was worth getting a picture of even though I had misgivings of goose poop showering me from above.
All those "maybes" on this trip made for one of the most memorable trips on two wheels I've had to date and I look forward to many more "maybes" in future adventures.