Posted on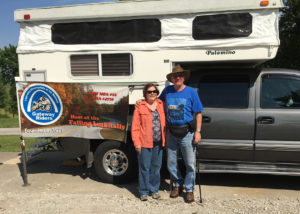 Judy and I took our truck camper to the rally, towing our Vespa and sidecar. Sleeping in a comfy bed rather than an air mattress in a tent is getting more and more desirable. We were the first Gateway Club members to arrive on Thursday afternoon.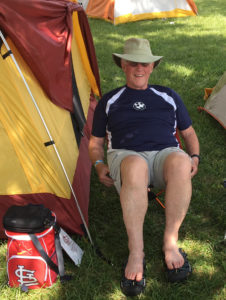 Friday, Gateway Riders started to roll in, making us the visiting club with the largest attendance – Jim Shaw, Jeff and Mary Ackerman, Ed and Myra Ovashak, Larry Floyd, Craig Pelletier and son, Alex, Mike Burke, and Walt Eschmann. A few guys from the European Moto Union joined our chat groups too. Several new dubbings took place – Mary, the Beer Angel (various kinds), and Judy, the Candy Angel (peanut butter Snickers).
This is the third year for the new site at Warnock Lake, and we like the change. The site has a ton more space for campers to spread out, and it surrounds the large lake. There seem to be sufficient RV hookups, some on concrete pads. A circular paved walkway surrounds the center camping area, which made it nice to stroll around and talk to people.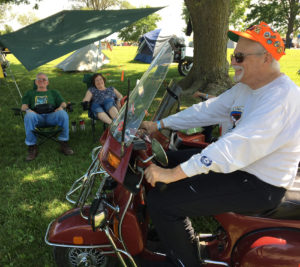 The only drawbacks were that the lake was not conducive for swimming, and there was only one permanent bathroom/shower for males and one for females. A few porta potties were scattered about, and there was a shuttle set up to take rally goers to a high school to shower. We can't figure out why, but even though there were only two permanent bathrooms, somehow it was not too crowded.
The park grounds were well cared for, and there were several interesting attractions on the grounds. A replica head of Amelia Earhart is planted out of greenery. We tried to see it, but apparently, it is only really viewable from high overhead. Most interesting was the International Forest of Friendship, paved trails featuring labeled trees, representing 50 states and 35 countries. One tree is the Moon Tree, which was grown from a seed and taken to the moon aboard Apollo 14.
It was nice to see Don Hamlin (former Gateway member) and his wife Paula. Don was one of the major rally planners for the Kansas City Club. Most people who arrived Thursday were from that club. We ate dinner with the KC Club that night and did a few odd jobs to help them set up. Don teased us that we had to qualify as rally workers to earn dinner.
Bill Brown from the KC Club is a staple at the rally. He always brings a bunch of small bikes, mini bikes and sidecar rigs. He believes dedicated riders have the responsibility to cultivate riders from the younger generation, and he lived up to tradition by giving kids many rides in his sidecar. Bill mounted a small plastic steering wheel in the sidecar, and the kids got really excited, as they thought they were steering. We donated a bag of mini candy bars to make the kids' rides even more desirable.
Atchison is known for two things – being the most haunted city in Kansas and a tribute to Amelia Earhart, who was born there. Both related to rally events. On Friday, rally goers could take an air-conditioned trolley on a haunted house tour. The trolley parked in front of 16 haunted homes, one school and one hotel, and the guide told the stories of how and why the sites were haunted. Some of the homes were huge, beautiful Victorian homes, somewhat near each other.
It is believed some are haunted because there used to be a cemetery underneath them. The cemetery was moved to make space to build the homes, but as the story goes, some unmarked graves were not moved and homes were built on top of them, making those under the homes so unhappy that they haunt for revenge. About half of the homes are so haunted that they remain unoccupied.
We were invited to go inside the most haunted home, the Sallie House, built in 1867. It has been the subject of several television programs and writings. Sallie was a very ill six-year-old girl who was brought in the middle of the night by her mother to the doctor who occupied the home. The doctor realized that Sallie had a ruptured appendix, and had to be operated on immediately if she were to survive. He gave her anesthesia; however, it had not taken effect when he began to operate.
Sallie's mother believed the doctor had tortured her daughter to death, and Sallie is believed to haunt the house. It is also believed that a middle-aged woman haunts the house, and that Sallie plays the innocent pranks (some have seen a shadow of a girl walking in the home), the woman plays the vicious ones.
The haunting tricks vary – toys being rearranged in the nursery, music boxes playing when there are none, pictures that were hung on the wall ending up on the floor in the middle of the room, lights going on and off, etc.
The most interesting story about the Sallie House was about a couple who moved into it after the doctor passed away. They believed the house was not haunted, and they planned to raise their family in it. Tricks (above) began to happen. The couple had various groups come in to rid the home of spirits.
When the prank hauntings did not cause them to move, the ghosts got physical. The couple got painfully scratched, and they felt someone pushing them. The straw that broke the camel's back was when the father approached the top of the steps on the second floor. He felt a firm push, which caused him to fall down the steps and over the railing. They moved after two years of enduring hauntings, and the house has remained unoccupied all the many years since.
The best haunting story dealt with our own Ed and Myra. Mary and Judy were telling different stories about how the homes were haunted at our Saturday afternoon gathering. Mary said we stopped at a haunted hotel. Guests hear people walking behind them in the hallway, but when they turn around, no one is there. They also hear walking at night, but when they open their room doors, no one is there. The supposed ghosts also play pranks by turning computers, televisions, and lights off and on.
The conversation got interesting, actually pretty funny (not to Ed and Myra), when someone asked the name of the hotel. "Americinn," Mary answered.
We were sitting next to Ed and Myra, and their reaction was priceless. Ed's head turned very slowly, and his eyes were wide. "You're kidding?" he asked. "No," said Mary. "That was where we stopped. It's haunted."
"That is where we are staying. You have to be kidding," Ed said in disbelief. "Nope," answered Judy. "I promise that was the name of the hotel." "Haunted. Haunted. We're staying in a haunted hotel," Ed muttered.
Judy and Mary proceeded to tell Ed what the guide told about us the hauntings. Ed continued, "Well, that explains it. We heard people walking in the halls at night and knocking on doors, three knocks. Three knocks and walking in the halls. The fire alarm went off in the wee hours of the morning, waking everyone up. Guests were not told to evacuate. There was no fire. The television would not turn on. But later it did. I just can't believe it. Haunted. I guess we won't be sleeping tonight."
Indeed, the rather-sleepless-listening-for-ghost Saturday night Ed and Myra stayed in the hotel did not disappoint. Ed set the air conditioner at 78 degrees. Ed and Myra finally got asleep, but Ed awoke shivering in the middle of the night. He got up and checked the air conditioner. It was set to off, but the temperature read 63 degrees! Needless to say, Ed and Myra will not stay at the Americinn next year.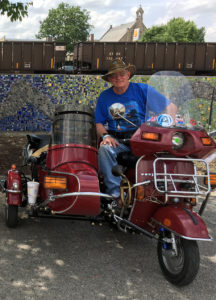 Saturday, Judy and I rode into town on the Vespa and entered it in the rally bike show, hoping to win in best sidecar rig category. We got a lot of tickets in our bag, but Bill Brown's 1972 classic BMW with sidecar won the trophy.
It was also the citywide garage sale that weekend, so there were a lot of activities and sales, including a flea market across the street from the bike show. I don't have to tell you where Judy went.
The nearby airport is named after Amelia Earhart. At various times, biplane rides were available for $50. On Sunday, an Earhart plane stored there could be toured, and they held motorcycle/airplane races. Judy and I left before then, so I can't say how those played out.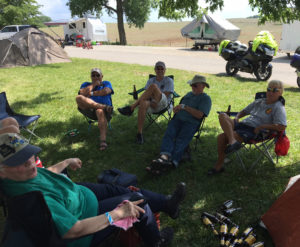 Although it was hot and humid, there was a breeze. There were enough trees in the center camping circle, that, with some shifting, we could sit in our chairs in the shade. A lot of stories were told in our Friday and Saturday group gatherings.
The Saturday morning egg/pancake/sausage breakfast was cooked and served by the Girl Scouts. The dinner was catered – infamous KC barbecue, shredded chicken or pork (2 big sandwiches), coleslaw, pasta salad, baked beans and chocolate cake. Coffee, lemonade, iced tea, and ice water were a constant, along with the popcorn machine on Saturday.
The sole vendor was KC Engle Motors. They had field events on Saturday, but Judy and I were feeling kind of hot, so we skipped them, opting for chatting with club members in the shade rather than being out in the sun.
We were to meet our daughter, husband and grandkids early Sunday morning for breakfast. So, rather than having to get up early and drive an hour Sunday morning, we took off right after dinner before the closing ceremony on Saturday.
After we scoped out all the door prizes, Judy and I put all our tickets on a Cordura lined jean jacket, to no avail. Darn. I was pretty happy, though, that my name was drawn for a $50 gift certificate at KC Engle Motors, which Ed and Myra delivered to us.
We were saddened on Saturday morning when we got the news that Al had passed away. We couldn't help but think that many of us were at a rally, and that Al would have loved to be there. All in all, though, Land of Oz proved to be a very relaxing and enjoyable rally.
Save
Save
Save