Posted on
We'd been in a streak of July temperatures around 100 degrees, so when Monday 24th was forecast for only 91, I posted on the Gateway Riders Facebook page that I was going riding. Phil jumped in and suggested a lunch ride to either Ashley's Rose in Augusta or the Hawthorne Inn in Labidie. Fortunately I checked the Internet and found out that Ashley's Rose is closed on Mondays.
I put out a club-wide email and got many regrets, so there were four of us—Phil Sulfstede, Jim Vincent, Bob Maples and me.
I was delayed leaving home because when I opened my handlebar bag to get out a valve stem extender, I found a clementine that had been in there since who-knows-when–certainly over a month. With 3 bikes, a vacation, and the hot weather, the R1200R's spot in the bike riding rotation had been delayed. And besides, I forgot the clementine was in there. It was a fuzzy, orangey thing stuck to the side of the bag. So I had to fetch some Lysol Wipes and take care of business before putting air in the tires.
Mine was the only BMW on this ride. Phil's Suzuki needed exercise, Jim was on his Triumph, and Bob brought his big Honda to delay service on his BMW a little longer.
Because we had an hour and 15 minutes to ride before the Hawthorne Inn opened at 11 a.m., I asked Phil to lead because he knows the back roads. We zigzagged between Hwy. T and old Hwy. 100 several times on twisty roads such as Ossenfort, Bouquet, Bassett, Little Tavern, Fiddle Creek, Grand Army, Decker, and Hwy. MM.
The recent storm had left some debris on the roads but the big stuff had been cleared. Some of the wildlife we encountered were a snake in the road, a young deer at the edge of a cornfield, a a couple of little bike-chasing dogs with 4-inch legs. And of course there were the bison on Bassett but they don't chase bikes.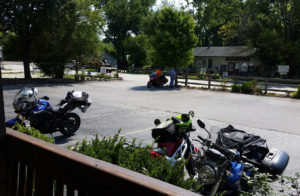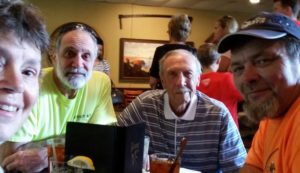 We arrived in Labidie with almost 15 minutes to spare. Phil had an additional 15 minute loop up his sleeve but I said let's just go to the restaurant. By the time we parked and got gear off, we had only a short wait on the porch. The parking lot was deserted so Bob grabbed the only shady spot (left).
The Hawthorne Inn's salads are fabulous. Of course, Bob wouldn't know because he ordered a bodacious looking burger. We talked, we took selfies, we loitered as the place filled up.
Jim took Hwy. T home and we left him in the parking lot, trying to figure out how to attach a to-go box to his motorcycle without bags of any sort. Bob and I rode with Phil west to old Hwy. 100, Washington, and Hwy. 94 east. A couple of slow car drivers in some of Hwy. 94's nice curves were annoying, but the straight-away before Defiance allowed us to pass, and Phil did his own sort of freaky passing of three cars in a spot where I would have stayed put, and did.
This was a ride whose time had come!