Posted on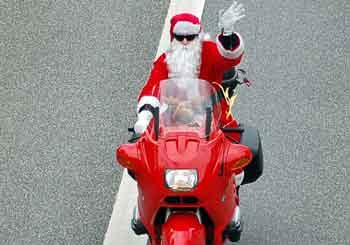 * Dec. 8 (Friday): The annual Gateway Rider's Winter Holidays party is quickly approaching but is a week later than usual. This year, in addition to the party there will be a separate December general meeting on the normal 3rd Wednesday of the month. However, dues will be collected in January (but you can give Jim Shaw, a separate check at the party or December meeting for later deposit). This year's party will be from 7 pm to 11 pm at HSC BALLROOMS (Hearts of St. Charles) at 1410 South 5st St., Saint Charles, MO. (same place as last year). The banquet hall opens at 7:00PM with an open bar till 11:00PM. Dinner will be served at 8:00PM. Dinner, coffee and desserts will be served. See below for directions. The cost for members is $5 and $10 for guests (for the first two guests per member; after that, it is $30 per guest). Please RSVP to Jim Shaw, jim61.shaw@gmail.com or 314-521-0341 by Wednesday, November 29 and let him know if you will be there to celebrate the holiday with us. We are paying for 75 members and guests so don't be afraid to bring a guest. The holiday party is a fun event and a time to catch up with friends and enjoy each other's company. So come and have a great time!
Directions:
If you are driving west across the Blanchet bridge, you will see HSC Ballroom on the north side of I-70 just after the river. Take exit 229B (Fifth Street north) and then take almost an immediate right into the Three Flags Business Center and go right along the outer perimeter road to HSC.
If you are coming from I-70 headed east, take Exit 229, then turn left (north) on Fifth Street. Turn right into the Three Flags Busi-ness Center and follow the outer perimeter road to the right.
If you are coming from the Page Avenue extension, get on S. River Rd. (Arena Pkwy.) and go north. River Road merges into Fifth Street. As soon as you pass under I-70, turn right into the Three Flags Business Center and proceed right around the perimeter to HSC.
If you are heading south down Fifth Street, turn left (east) onto Ameristar Blvd. Go 2/10 mile. The driveway is on your right. It is a narrow, up hill driveway that is hard to see.