The Gateway Riders BMW Club
A Historical Perspective
by Cathy Bissell

Founded in 1971, members of Gateway Riders BMW Motorcycle Club have continued to actively ride, promote motorcycling on BMWs, meet regularly as a club, and bond socially as a group of wonderful friends.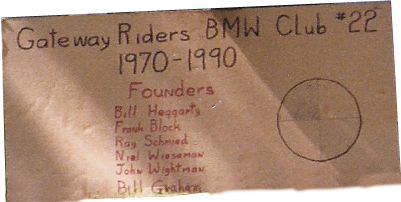 The words of Rich Cates, founding member, were written in the early 1970s, yet they still ring true today.
Gateway Riders – History
First moves to organize a local BMW Club started in September, 1971. I placed notices on bulletin boards at Midwest Kawasaki and Cycle City (the only two BMW dealers in the St. Louis area at that time). They said something to the effect, "BMW owners interested in talking about a club, please call Rich Cates…."
Shortly thereafter on a Sunday afternoon, John Wightman, Neal Weissman and Mike Payne stopped by for coffee and the beginning of the Gateway Riders.
Events moved quickly after that. A steering committee was formed to guide the Club's formative process. We selected a name, emblem, and formal regulations were adopted. Our first elections took place in January, 1972.
From then on, history is pretty well-recorded in the Club's newsletters. What isn't recorded are the many warm and fascinating people that contributed so much. To do them all justice would take more time and talent than I have. Then, as now, people are the Club's single most important ingredient.
Thanks to the efforts of Mr. Cates and other founding members, Gateway Riders quickly grew from four to forty. To date, the founding members still in the Club are Bill Graham and John Wightman. However, there are quite a few members who joined during the early days in the late 1970s and early 1980s, resulting in 30-plus year friendships. Many are still current Club members. Since the early 1990s, Club membership has remained steady at about 100 people.
Throughout the history of Gateway Riders, members have enjoyed the camaraderie of other like-minded individuals. Some of the very first Club activities included day rides, two-day tours, tech sessions and other social events. The Club has produced a newsletter from its inception. For many years, newsletters did not include pictures, as they were typed on a typewriter and reproduced in bluish-purple ink on a mimeograph (ditto) machine.
Coinciding with the infancy of Gateway Riders, the national organization, BMW Motorcycle Owners of America, was formed in April 1972. As chartered club #22, Gateway Riders was one of the first local clubs to charter with BMW MOA.
The 'MOA held their first national rally in 1973. Gateway Riders, in concert with the Springfield, Missouri BMW Club, hosted the third 'MOA National Rally in Branson, Missouri, in 1975. That national rally was the launching point of our own rally history, with the first Falling Leaf Rally being held in 1976 in Bland, Missouri, first at a private campground with a lake and then at the Bland Public Park. The Falling Leaf has been held in Potosi, Missouri, since the early 1990s.
In addition to chartering with the BMW MOA in 1972, Gateway Riders BMW Club became incorporated in April, 1974.
Amongst the early-day activities were several different annual campouts. The longest running of these is the Blue Nose campout, which is held in February at Pere Marquette State Park.
Another long-lived Gateway Riders activity is the Woo's Folly ride, a traditional event born out of an early member, Milt Woo, stumbling on a restaurant called Diamond Mineral Springs while lost in Illinois. One of the oldest and most popular rides is the Progressive Dinner, held in April.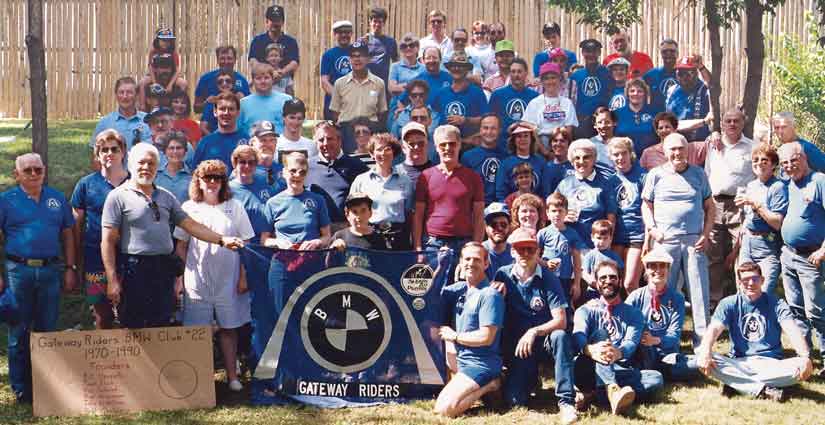 While particular events have evolved over the years, the members of Gateway Riders have continually enjoyed a variety of annual activities. In addition to member planned rides, campouts, tech sessions, and the Rally, a typical yearly line up of club events includes get-togethers for Valentine's Day, St. Patrick's Day, Super Bowl, June pool party/general meeting, Christmas, and New Year's Eve.
Gateway Riders is always open to ideas for rides and other events. We would be happy to include you amongst those people who are the "single most important ingredient" of the Gateway Riders Club.