The Gateway Riders BMW Motorcycle Club is comprised of BMW motorcycle enthusiasts. Our emphasis is on riding motorcycles, but we are also a social club that hosts a wide variety of events too.
In a typical year our members will participate in more than 40 club rides, many  impromptu rides, several tech sessions, and nearly a half dozen parties and social events. Our popular Progressive Dinner ride visits several members' abodes throughout the greater St. Louis metro to enjoy an "eat and ride", all day 5-course meal with a different course at each stop.

We top off our year with a Christmas party where we celebrate the past year's new memories. The holiday party is one of our most popular parties with great attendance in the last nine years.
Our members rack up a lot of miles attending our national organization's BMW motorcycle rally, the largest BMW motorcycle rally in the world, and traveling to other regional, local, and state club rallies. If you like to ride, chances are you'll find many new friends to join you in your passion.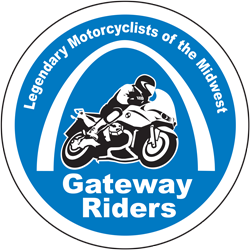 The Gateway Riders is a chartered club, #22, of the BMW Motorcycle Owners of America. Our American Motorcycle Association charter number is #4770. We sponsor and run the Falling Leaf Rally at the Lions Club Fairgrounds in Potosi, Missouri, the second weekend in October. Riders from all over the US attend and BMW motorcycle riders from all over the world have stopped by to camp with us at the rally. Make sure you attend this long-running BMW motorcycle camping event.
We currently meet as a club the 3rd Wednesday of every month at 7:00 p.m. Our currently location is Miss Sheri's Cafeteria, Warson Woods Center, 9967 Manchester Rd, St. Louis, MO 63122.
Guests are always welcome at our club meetings. Fill out our guest form and let us know you are coming to a meeting.