Posted on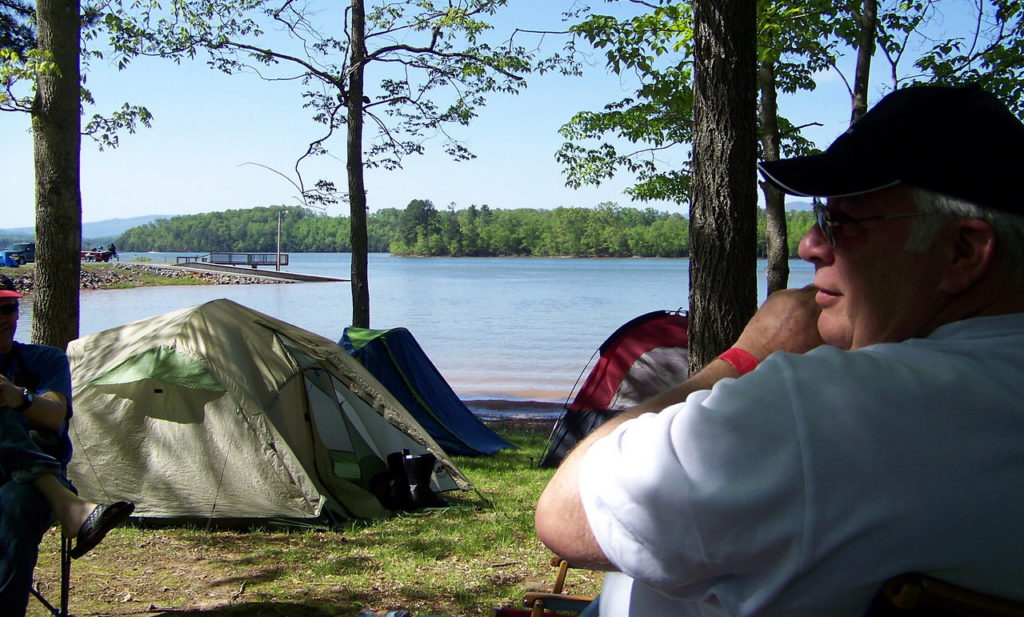 Note: The featured image left is from a much sunnier day (in many ways) at the 2011 GMR. –ed.

Hi folks, dare I mention the Georgia Mountain Rally (GMR) here as a rally review? I know that there were several eye rolls when I started posting some pics on our Facebook page during the ride. In fact, come to think of it, even my wife was rolling her eyes as I raised the garage door to the pitter-patter of raindrops on my roof.
But true to my riding rule of "if it's raining when opening the door, immediately close it again unless I'm heading out on a trip," I headed out. GMR qualified as a trip so off I went. Luckily I was on the south side of the Meramec River so I didn't have to navigate through road closings in the Jefferson County watershed, but getting across the Mississippi was a bit of an exercise. Chester Bridge was closed as was the double bridge leading into Wickliffe, leaving only Cape open.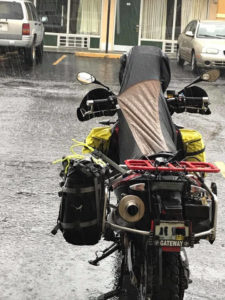 I was a bit concerned about the lowlands on the Illinois side, but made it to 146 East without issues, other than hard rain. Ten hours of riding in strong downpours, though, took their toll with a rising of the white flag just north of Chattanooga, Tennessee (left). I had hoped to make it to the rally in one day but opted for the security of a motel room while trying to dry out.
Needless to say, I probably will need to make some adjustments to my rain gear equipment, as my Stitch Darien Light jacket that only seems to be appropriate for "light" rains, my year-and-a-half old waterproof boots… Not so much anymore, my… Well you get the idea, eh?
Now in my defense, I must note that this is not my first GMR, as I seem to have developed an affinity for the folks in Georgia and the rally they present. Yes it rains, sometimes buckets, but I've run into rain at most other rallies I've attended over the years. Many remember the rain and wind at Hamburg, maybe the hail in the Bear Tooth Mountains at GS 2015 pre-rally, or maybe some of the rains or frozen ice on the tents at our own Falling Leaf Rally over the last couple of years.
So at least for me, rain is not a reason to discount an adventure as it just "ain't" in the equation as a qualifier for a no-go…GMR has afforded me many firsts in my collection of memorable riding experiences and this rally certainly did not disappoint.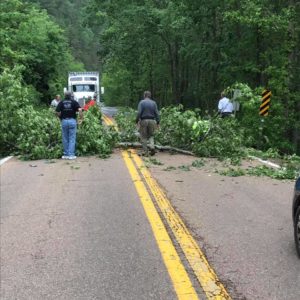 For example, I've never had to perform a panic stop behind a couple of cars as a monster 35-inch trunk live tree fell across the highway, blocking traffic in both directions. Probably after a few tellings of this story, that tree will expand to epic Sequoia tree size, somewhat like a fisherman's tale of success, but I have to start somewhere.
Now I've performed panic stops for other reasons, but not with my attention focused on a tree dropping across the highway, thinking how lucky I was not to have been three or four seconds earlier. And I didn't even see any signs warning about dropping trees, like you see for falling rocks. Go figure! But I learned that folks in Georgia must include Stihl chainsaws in their trunks much like folks in Michigan pack blankets and water, as up walked a gentleman who would have been at home in any chainsaw massacre movie, chain saw roaring as he approached.
I bet he had that tree butchered in four minutes tops, as our volunteer group of road repair conscripts rolled the logs off to the side and watch them drop down to the boiling Ocoee River on the south side of the road. Subsequent passings of fallen trees cut up to open one or two lanes on back roads during the weekend only helped to solidify my theory of chainsaw emergency trunk equipment.
Another "first" experience reason to attend was the presentation by Jack Riepe #116117, founder of the Secret K Bike Club and author of several books focused on motorcycling, such as Conversations with a Motorcycle. I enjoy Jack's humor and outlook on life, so it was nice to meet him in person after he presented an official presentation on Friday evening during the chili supper extravaganza, and Saturday afternoon in a much more informal question and answer format.
Jack has made the jump to being a fully engaged writer of motorcycle articles–quitting his day job–so expect to see many more enjoyable articles and books in the future. I had hoped to pick up a copy of his Conversations book, but it is still not available from the publisher; Jack was taking advance orders for his third printing, and also for a new volume coming out. Maybe just in time to provide reading material for my July sojourn for the month through Utah and Idaho.
I did have one ulterior motive for going to the rally and that was to learn how to provide coffee for a multitude of coffee zombies. I've experienced a wave of bleary eyed, disappointed campers attacking the coffee staff at an Oz rally in Kansas after their best laid plans (to provide volumes of black liquid gold similar to the flood waters in the Mississippi) went south. Not good…and I want to make sure that I never have to experience that drama myself, as I have agreed to be responsible for coffee at our upcoming 2017 Falling Leaf Rally.
My reasoning being if I goofed up the process I'd rather upset the good people of a state a couple of hundred miles away rather than the good folks in Missouri who could possibly be one of my neighbors. So I volunteered to help out at the GMR with the coffee process. Witnessing the hungry eyes of monsters emerging from their tents at the Oz rally a couple of years ago where the coffee trailer they thought was the cat's meow of coffee production kept blowing fuses, is not a memory first I hope to cultivate at the FLR.
So, the rally was excellent with the exception of a little weather related discomfort, but the best "first" presented itself as I drove into the Festus Panda Express restaurant for dinner on the way home. I was waited on by a 17 year old kid who couldn't keep his eyes of my girl outside, even though she was covered with mud and bugs from head to toe. He pointed out his K100 café racer parked over on the employee lot and explained how he had come to be the proud owner of the bike.
As he went through his story, I was amazed how ironic it was here was an old guy going all goggle eyed over a kids old K-bike and the young kid was going all goggle eyed over the old guys dirty 700 GS. Again go figure! I couldn't help but think that here is a perfect candidate for Jack Riepe's Secret K Bike Club and hopefully a representation of our future BMW motorcycle family… Cheers!
Save
Save